Sports Injury Chiropractic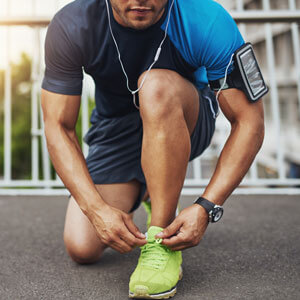 As an athlete, nothing is more important to you than being able to keep participating in the things you love. At Marcuzzo Chiropractic & Acupuncture Clinic, we welcome active people of all ages. CrossFitters, golfers, runners and high school or middle school athletes can all benefit from what we do. When it comes to sports injury chiropractic, what we do goes far beyond helping you recover from an injury. We can even help you get more out of your performance!
How Chiropractic Ups Your Game
There are three main areas in which chiropractic can help you:
1. Enhances flexibility. No matter which sport you're in, you need to be able to move well. With your spine aligned, you'll have better flexibility so that you can perform optimally.
2. Increases mobility. With better flexibility comes superior movement. Chiropractic loosens your spine and joints so that energy can flow, blood circulation increases and your organs and brain get the nutrients and oxygen you need.
3. Decreases the chances of an injury. When you stay flexible and mobile, you're less likely to become injured. You won't get tight muscles or ligaments that can be pulled or torn easily.
The Frequency of Your Visits With Us
If you're considering becoming a patient for sports injury chiropractic, you might wonder how often we'll want to see you. When you first begin care, we'll likely recommend more frequent visits. That's so we can begin making changes, breaking the unhealthy patterns that your body has become accustomed to. As you start to heal and hold your adjustments, we'll decrease the frequency of your visits.
When you first come to our office, you may do so because you're in pain. Our approach also allows for any discomfort you're in to start decreasing right away. We'll focus on making sure that you feel better, then improving your overall function.
Staying Healthy and Active
It's our goal to get you feeling better and back to the game as quickly as possible. Once you feel like you're at your pre-injury status, you might consider discontinuing care. We recommend that you continue seeing us on a preventative basis. With periodic checkups, you can avoid getting an injury in the future.
With chiropractic care, your body and spine will remain more flexible and mobile than they would if you were not under care. If you do happen to be reinjured, we can work with you to help you recover faster and return to your sport without delay.
The Types of Athletes We See
Is your sport one of the many types that we see athletes from? Here is a list of the most common sports that our patients participate in:
Baseball
Basketball
Cheerleading
Football
Golfing
Running
Soccer
Track and cross country
Young Athletes Welcome
Adults and children alike can experience an injury from playing sports. More and more, children are getting involved earlier in sports participation. While this activity can be healthy for them, they're also more prone to getting hurt. We see elementary schoolers, middle schoolers and high schoolers who aren't performing as well as they can or need to recover with sports injury chiropractic West Omaha.
Same-Day Visits Available
You don't have to wait to get in for an appointment. Contact Marcuzzo Chiropractic & Acupuncture Clinic now!

Sports Injury Chiropractic West Omaha, Millard and Omaha NE | (402) 963-9401