Personal Injury Chiropractic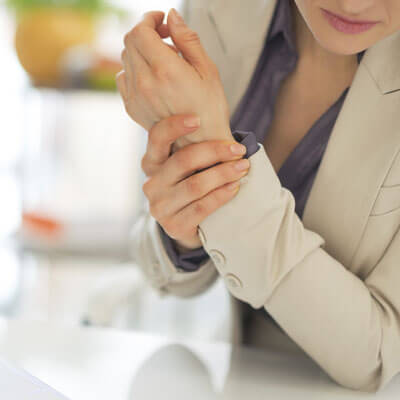 At Marcuzzo Chiropractic & Acupuncture Clinic, we're dedicated to helping you feel better and get more out of life. Our warm and inviting environment is the perfect place to start your healing. If you've been in a car accident, we provide personal injury chiropractic care. Over the years, we've developed an excellent reputation for taking care of people who have been in motor vehicle collisions. We want to make sure that your care goes smoothly and is kept simple for you.
Keep Your Body in Good Shape With Chiropractic
Even slow-moving crashes can leave you with less-than-optimal health. Your vehicle may not be damaged, but you should still have your spine checked. Injuries can occur whether or not you feel pain right away. You can travel as slowly as five miles per hour and still end up with adverse effects from a car accident.
If you wait, you can end up with far greater pain and injury further down the road. Many people end up suffering for weeks, months and years after their accident, not knowing that there are options to help you feel better.
Why You Need to Get Immediate Attention
Did you know studies support that you should get attention within 14 days of a joint injury to prevent degeneration? The problem is that most people don't bother going to the chiropractor until after the degeneration has set in. If you get checked immediately after your accident, it won't take as long to correct any issues as it would if they set in for years before you seek help.
The Most Common Post-Accident Symptoms
There is a range of signs that your body is in ill health after your accident. These include
Anxiety
Headaches and migraines
Insomnia
Pain and stiffness in the neck or low back
Pins and needles in the extremities
Shoulder and arm pain
Tingling and numbness
Whiplash
Are Your Issues Related to a Past Accident?
Dr. Marcuzzo has been in practice for more than 20 years. During that time, he's seen many people who come into the office for pain and discomfort. In looking at their health history, we are often able to pinpoint the beginning of their problem to a car accident or sports injury. These problems never received the attention they needed when they occurred. As a result, the patient is in far more pain now. This snowball process can be stopped in its tracks by getting checked at the chiropractor.
What to Expect When You Become a Patient
At your first appointment, we'll have a consultation and perform an examination. During your exam, we'll take X-rays and a motion scan of your spine to see which areas aren't moving correctly. The technique Dr. Marcuzzo primarily uses is called Motion Specific Technique. Through this method, he will restore the alignment of your spine so that your body can heal itself.
We Can Work With Your Insurance or Attorney
We want to keep the process easy for you. We'll be happy to work with your insurance company. If you have an attorney, bring their contact information in with you, and we'll reach them to consult on your case. It's our goal to take care of the details so that all you have to do is concentrate on your healing. Contact us today to get started with personal injury chiropractic West Omaha!

Personal Injury Chiropractic West Omaha, Millard and Omaha NE | (402) 963-9401